CHECK THIS OUT!!! Mark Raney will share his thoughts every week. Make sure to check back to see what he's up to.
4 K A DAY RETURNS MARCH 29TH. LISTEN FOR A CHANCE TO WIN ON 96.1 KZEL! It's the easiest Thousand Bucks you'll ever make!!!!!
—
Congrats to our Oregon Duck Women's basketball team. Going deep into the Big Dance. Nice job to all and way to go Coach Graves!
—
KZEL underway with Mutt Madness. Check it out at 96kzel.com. Here is my sweet doggie friend. This is Minnie. 13 years old and a real character.
—
KZEL CONCERTS ON THE WAY;
Eagles, Dead and Company, David Byrne, Metallica, Rod Stewart and Cyndi Lauper, Jackson Browne, Steve Miller and Peter Frampton, Foreigner and Whitesnake, Tajmo and many more. Listen to KZEL to win tickets!
—
Congrats to the winner of the Big TV for the Big Game Contest…Joy McKee of Eugene. Joy was excited to win the 49″ LG Smart TV from Bradford's and tons of pizza fun from Coburg Pizza Company. Sandy and Mark delivered it Saturday morning so Joy would be ready for the Big Game! Nice going Joy and thanks for rocking on KZEL…the home of the Big TV for the Big Game!
—
BLOG UPDATE: The winner of the Tattoo contest was Brian Creach of Elmira. Congrats. Winning Tattoo from the panel of judges? Here it is
All Wildlife Tattoo's just below my family pictures…check them out!
—
Celebrated my Dad's 90th birthday in January. Happy Birthday Dad…proud of you. 90 years old!!! WOW!!! Here's Dad with some friends and old neighborhood pals! Of course that's Dad in the recliner!
—
A huge thanks to Mac's Nightclub and Restaurant for sponsoring the KZEL Contests each and every month. Black History Month this month. Mac's will also sponsor these upcoming events, the Luck of the Irish, Red-White-&-Win and many more. Mac's is Eugene's Home for Live Music. No membership required! All are welcome. Mac's is the coolest to Vets and musicians! Find them at 16th and Willamette Eugene. https://macsnightclub.com/         Tickets at www.macsnightclub.com   PS Don't forget about Mac's Custom Catering. check it out at macseugenecatering.com
—
Listen for a chance to win concert tickets to shows like David Byrne @ the Hult, Dead and Company @ Autzen Stadium, Steely Dan and the Doobie Brothers, Santana, The Eagles, Dark Star Orchestra and more. Keep it on KZEL to score tickets to great shows here in the NW. All part of the KZEL Twenty-Eighteen Concert Scene!
—
Hey KZEL Family; Send me a shot of your Wildlife Tattoo and we will enter you to win a cool guided fishing trip from Clarence Cole; "Ocean Fishing Charter provided by Clarence Cole's Fishin' Trips Charters." It's all part of KZEL and the Eugene Boat and Sportsman Show, 2/2-4. Send me your shot and we post on Facebook and here on my blog. We will announce the winner 2/2 with Mark and John. Winner also receives tickets to the show and dinner at Dickey's BBQ!.  http://www.exposureshows.com/our-shows/eugene.html
send Wildlife tattoo shots to mark@96kzel.com.
Here are some of the entries so far;
—
Go Ducks…vs Boise State in the Las Vegas Bowl this Saturday. Game time on KZEL 12:30p. Tough lose. We will get them next season! Go UO Women's Basketball!!!!
—
KZEL Gang. Last night was the finals for Next2Rock 2017. KZEL has a Live stream going from 96kzel.com You can check out the finals here on the website. Just click on the next2rock promo reel. Congrats to Ivory Black from Kansas City…winner of next2rock 2017. Congrats to all the bands, especially our local rockers from Eugene/Springfield and beyond! Next2Rock was sponsored nationally by Tile…the worlds bestselling bluetooth tracker. That's Ivory –>  Best friend and band mate Keenan Franklin!
—
KZEL will be live at First Place Family Center this Friday 12/15 taking donations to help those in need. First Place Family Center is at 1995 Amazon Parkway, next to South Eugene HS. KZEL will be there from 8a to 5p. Thanks to Beehive Rental co/C&E for all their help every year! See you this Friday and thanks for helping!
—
This is one of the guys who won a Grand on 4K a Day. He's from Veneta! Nice going!!! PS  The shot with my arm…looks like it was photo-shopped in! Weird angle I guess!
—
Here are some of our recent Duck/Mo Center shots before Kick Off. Join me and Sandy before all home games in the Mo Center at the Guaranty photo booth and get your picture taken with the Duck Football Hero…for FREE!. How cool is that! Plus we will get you signed up to win TSO tickets. KZEL presents Trans- Siberian-Orchestra @ MK Arena on 11/26. Listen to Mark and John to win your way in!!!!
—
Recent pictures of Me and Sandy & my family as Sandy and I celebrated our 28th wedding anniversary 8/03 in Lincoln City with my sister Debbie and brother in law Doug! We had a blast.
Braid measured over 20″ and saw whales in Boiler Bay Cove!!!! That's Sandy in the Tiger Head. We should go to Walmart more often. Wait…what?
—–
It's time for another edition of "Something From Mark's Office!" From time to time, I will post something of mine, right here in my KZEL office. Bet you didn't know I had this!!! It's my iron bull and man taking a siesta, carved from wood. I love wood carvings…but now I am giving away my age!
This is a shot of me and George Thorogood behind the McDonald Theater in Eugene a number of years ago. He was nice this time. George has a new solo album coming out with covers of his favorite blues tunes.
We just played Wang Dang Doodle on the morning show. Johnboy loved it…I thought it was pretty mediocre.
Here is one of the items in my office posted on 7/13. It is titled Strange Hole….sorry about the camera glare.
—
My Charcoal Terrier etching. It's hanging on my office wall.
Here is something from my office. Humpty Dumpty. He's is a character in an English nursery rhyme, probably originally a riddle and one of the best known in the English-speaking world. He is typically portrayed as a personified egg. The first recorded versions of the rhyme date from late eighteenth-century England and the tune from 1870 in James William Elliott's National Nursery Rhymes and Nursery Songs. Its origins are obscure and several theories have been advanced to suggest original meanings. Here is my Humpty, complete with Monster truck Headphones!
Check out my bobble heads including Obama, Hillary, the Chief from the Cleveland Indians MLB and even Steve Prefontaine and Nate McMillian! Love bobbleheads!!!!
—
Upcoming Concerts with KZEL. Keep listening as we will have tickets to see, Foo Fighters, TSO in Eugene 11/26 for 2-shows, and more. Working on getting some Helles Belles tickets for giveaway. They play in Nov. @ Hi Fi Music Hall. Plus coming soon, tickets for Nat Geo Wild at the Hult. These are very cool shows.
Don't be mad…but this is the type of junk that happens when you are President. Check out these silly pictures of the Donald. Just posting for a chuckle, not political commentary!
Here's more pictures of DT to add to the collection:
—
Recently I laughed out loud at this. Maybe you've seen it. So silly but fun to watch! Life ACCORDION to Trump!
—
Plus KZEL has unveiled our KZEL STOP SET SUPERSTARS! It's a great way to win prizes. Don't stray while the commercials play. Keep listening and you could be our next KZEL Stop Set Superstar! So far, listeners have won tickets to see Daniel Tosh, Food Scene Eugene with LCC passes, Zepparella tickets, Guest list spots with KZEL for Kamau Bell @ the Hult Center, and Pre-Classic tickets recently at Hayward Field, David Blaine tickets, NCAA Track tickets for Hayward Field and guest spots on the KZEL Guest List for Life During Wartime, a Talking Heads tribute band who played @ Hi Fi Music Hall on 6/16.! When KZEL commercials play, don't leave…rather stay and retrieve your prize and be our next: A chance to win coming up in July and August.
Upcoming prizes include; Concert tickets and more cool stuff. Just listen to win.
KZEL STOP SET SUPERSTAR!
—
Many sweet dogs have  stopped by KZEL and are looking for good new homes. Many have been adopted and thanks for helping these dear furry ones! KZEL Pet of the Week every Wednesday morning with Mark and John and brought to you by Cascade Animal Clinic, MoHawk Vet Clinic and Pacific Air Comfort. They say when you purchase a new system from them, they will donate $100 bucks to Greenhill's Building fund!
Go to www.green-hill.org
Here are some of the latest Dog that got adopted and Modo is one of them. So are these sweet Dogs!
—
Check this out…these dogs have visited KZEL with Mark and John and all been adopted from Greenhill. Thanks for giving them a great new home!!! Good luck Bertha, Charlie, Hayden, KO and brother Kupid, plus Marcia, Peppe, Riley, Angel, Papperdelle and Tobias!!! We are so happy about that. Thanks for considering one of the sweet dogs with Greenhill and 1st Ave Shelter.
Check green-hill.org
—
Finally Gang. How about the picture of how long my ponytail is! (Even longer now…this picture was taken almost a year ago!). Fellow long hairs! How long is your ponytail? I have been growing for at least 5.5 years…maybe longer. Some one asked me "when you gonna cut it?" I said when I am tripping over it! One foot note, one night at the Experience Hendrix show, a roadie had hair about my length. Congrats brother. Plus I have been called a lady a few times, that sucks, (no offense, I love women, but I'm a Man) but it is sort of fun with a full head of hair…whatever!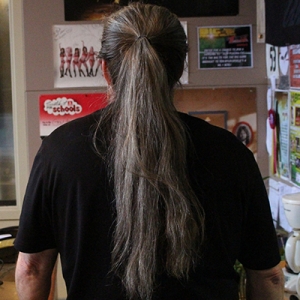 More Later or Later More,  Mark @ KZEL