C
Mark & John In The Mornings, Mon. – Fri. 6am – 10am
MARK RANEY BIO:
MARK IS 60 YEARS OLD AND HAS BEEN MARRIED TO SANDY FOR NEARLY 30 YEARS. MARK WAS BORN AND RAISED IN OREGON CITY AND ATTENDED PORTLAND STATE UNIVERSITY. HE AND SANDY MET IN ALASKA IN 1985 WHILE WORKING FOR K-WHALE RADIO IN ANCHORAGE. THEY HAVE NO CHILDREN BUT THEY DO HAVE A BLAST RAISING WIRE HAIRED FOX TERRIERS. THEIR CURRENT LITTLE FEMALE WHOM THEY RESCUED BRINGS THEM TONS OF FUN. HER NAME IS MINNIE. WE BOTH LOVE LIVING IN EUGENE. OREGON IS THE COOLEST!
MARK HAS BEEN IN RADIO OVER 40-YEARS AND HAS WORKED AT KZEL RADIO FOR ALMOST 25 OF THOSE, 10 YEARS AS ONE HALF OF THE CYD AND MARK MORNING SHOW, AND CURRENTLY IS THE HOST OF "THE MARK RANEY SHOW" STARRING JOHN FREDERICK HIS SIDEKICK. OTHER RADIO STOPS INCLUDE PORTLAND, PHOENIX, ANCHORAGE AND GOOD 'OL ST. HELENS OREGON (KOHI).
MARK IS THE PROGRAM DIRECTOR FOR KZEL RADIO AND SISTER STATION KUGN, NEWSTALK 590, WHICH ARE BOTH PART OF THE CUMULUS MEDIA CHAIN HERE IN EUGENE. SANDY HAS RETIRED BUT WORKED AT THE REGISTER GUARD FOR 25 YEARS SELLING ADVERTISING. THEY HAVE ATTENDED UNITED LUTHERAN CHURCH FOR THE PAST 20 YEARS, WHICH WORKS OUT WELL SINCE THE CHURCH IS ACROSS THE STREET FROM THEIR HOME IN COLLEGE HILL HERE IN EUGENE. SANDY IS UNITED'S ONLY JEWTHRAN!
MARK ENJOYS TRAVEL, SPORTS, SWEETS, ANIMALS AND THE GREAT OUTDOORS. SOME DAY HE AND SANDY WOULD LIKE TO OWN A HOME AT THE BEACH. MARK'S BEST MOMENT OF SERVICE HAS BEEN RAISING OVER 20-THOUSAND POUNDS OF FOOD FOR "FOOD FOR LANE COUNTY" WITH HIS LOCAL SUMMER CAMP AT THE HILTON HOTEL. HE WOULD ALSO INCLUDE THE LOCK-IN SOME 10+YEARS AGO WHEN YOU HELPED SAVE KZEL, WHEN MARK CAMPED IN THE STUDIO FOR 9 DAYS TO TAKE BACK LOCAL CONTROL. TO THIS DAY, I STILL SAY THANKS TO OUR COOL AUDIENCE. HIS FAVORITE PERSON IN HISTORY IS JESUS AND HIS FAVORITE PASS-TIME IS CHATTING WITH WIFE SANDY! i ALSO LOVE TO READ AND WOULD LOVE A EASY GOING BOOK CLUB ON KZEL.

THANKS A TON FOR LISTENING TO ME ALL THESE YEARS AND THANKS FOR SUPPORTING KZEL!!!!!
John Frederick Bio
John moved to Oregon to track down Bigfoot. On weekends he camps in the remote wilderness with his faithful hunting dogs Ringo and Brutus, the chiweenie, searching for signs of his elusive quarry. As the Hunt continues, JohnBoy bides his time by doing the Morning Show with Mark Raney, singing Beatles songs and hangin' with his kids and two grandsons.
John is an avid sports fan. He claims he grew up in Tiger stadium in Detriot. He says he has seen his beloved Tigers, Redwings and Pistons all win championships and he won't die happy until he sees the Lions win the Superbowl. (Good luck with that and the bigfoot thing Buddy!)
COMING SOON, A BETTER PICTURE OF JOHN, (without goofy looking Mark standing there) SO YOU CAN TELL WHAT THIS GENTLE GIANT REALLY LOOKS LIKE, BLUE/GREY EYEBALLS, CROP TOP, TATS AND ALL!!!!! CAN'T YOU JUST TASTE THE ANTICIPATION???
Emma, Mon. – Fri. 10am – 2pm
JOIN EMMA, WEEK DAYS ON 96.1 KZEL FROM 10AM TO 2PM. NOTHING LIKE A WOMAN'S TOUCH IN THE MIDDLE OF ALL THESE KZEL MEN!
SHE'S THE COOLEST AND SHE LOVES TO ROCK! LISTEN IN TO HER SHOW AND COMING SOON, MORE OPPORTUNITIES TO MEET EMMA AND HANG OUT WITH THE ENTIRE KZEL STAFF….
JOIN EMMA ON THE RADIO, MONDAY-FRIDAY FROM 10-TO-2PM ON THE ONE AND ONLY 96.1 KZEL!
HERE IS A BIO ACTUALLY WRITTEN BY EMMA HERSELF; NOW THERE IS NO EXCUSE TO SAY, 'I DON'T KNOW HER!' Read On..
Hey! I'm Emma, or Emily if you'd prefer. I was born on Christmas Day, 1981 in Honolulu Hawaii. I grew up in Delta Jct. Alaska & Grants Pass Oregon…a perk from the divorce I suppose. 🙂 I graduated from Grants Pass High School in 2000. I love playing and watching sports, with the exception of golf and baseball. If I needed a nap, I'd just take one. Board sports are a favorite of mine, especially long/skateboarding and snowboarding for sure! I also love comedy and music, which is why I love my job!! Go ahead, turn me on…10-2 every weekday…Right here on 96.1 KZEL!
Cyd, Mon. – Fri. 2pm – 7pm and Saturdays noon -6pm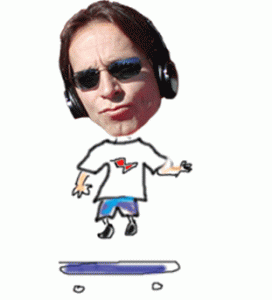 Birth Place: unknown awareness
Weight: depends when i last ate
Life Goal: 'To get paid for breathing'
Favorite Past Time: excessive moderation
Education: Master Degree in Applied Knowledge = Life
Favorite Present Time: Playing
Favorite Future Time: Being
Cyd's Mantra: Enjoy